Since it's my birth month this July and I'm turning 33 (wow I'm old! LOL!), I thought I'd share 33 things about me. These are really just some random facts about me. Now if you and I are very close in real life and been my friend since grade school or high school, you'd most likely know some if not most of these things about me.
1. Backstreet Boys led to me finding the very first friend who actually stuck around beyond 1 school year.
My friendships in grade school had an expiration date. Once the school year ends and we're no longer classmates, we're not friends anymore. I was actually afraid that I'd never make real friends – friends whose house you'd visit on weekends and vice versa, friends you'd do sleepovers with, friends you go to the mall with, and friends you'd turn to in your hour of need.
But then came sixth grade. And this was in the '90s where boy bands like Boyzone, 911, Westlife, 98 Degrees etc., were all the craze of pre-teens and teenage girls. I remember seeing Anerine showing our classmates her photo album full of Backstreet Boys photos. She was not shy about letting people know how much she loved the boys and particularly the youngest one, the gorgeous blonde, blue eyed Nick Carter whom I was also crazy about.
When she found out I liked BSB and Nick, the next day, she came up to me with a photo of Nick Carter with a note on the back: Will you be my best friend?
Just like that I had landed myself an instant best friend. LOL! Turns out she was just one of the many to come along who would become my friend.
2. My first ever celebrity crush was Romnick Sarmienta.


This came about after watching Si Pardina at mga Duwende which starred Sheryl Cruz opposite him. I was particularly drawn to his eyes – chinito. For a time, I wanted to meet a dwarf as cute as Romnick. But then most movies, TV shows or comic books that had dwarves in them were nowhere near as cute he was.


3. I'm hardly crazy about chocolates.


Most of the chocolates I get whether given by friends, wanna be suitors, acquaintances etc., I give to my mother because she's the one who likes them. The only chocolate I really like is Kit Kat – the original one. Not the dark choco or matcha one.
Though I did wish to receive Ferrero Chocolates back in high school from a guy because it was the chocolate to give back then. Eventually, I did get my wish to receive Ferrero. Did not like the taste at all. Guess who ate the rest of that chocolate? That's right. Mom.


4. But I am crazy about shoes.
'Cos shoes don't make you feel fat. Also I particularly like heels. What can I say? I loved Carrie Bradshaw walking the streets of NYC in Manolo Blahniks. But yeah, I soon realized that it's not easy to walk in high heels. I have one too many experiences of being in heels for hours and boy did my feet hurt like hell.
5. I have a very bad memory.


My Dad always said "Ang bata bata mo pa, makakalimutin ka na." How bad is my memory? Well, let's put it this way – I go in a room and two seconds later, I end up wondering what I was there for. I meet someone new and a minute later, I've already forgotten his or her name. And when I leave my umbrella by the guard station at the gym, the guard would always ask when I'd be coming back for it because I sometimes would remember the umbrella only after a day or two.
6. I don't have an all time favorite movie. But I do have my go-to-films for certain moments in my life.
Bruce Almighty – When my faith is challenged because life was particularly sucking at that moment.


500 Days of Summer – For when I get my heart broken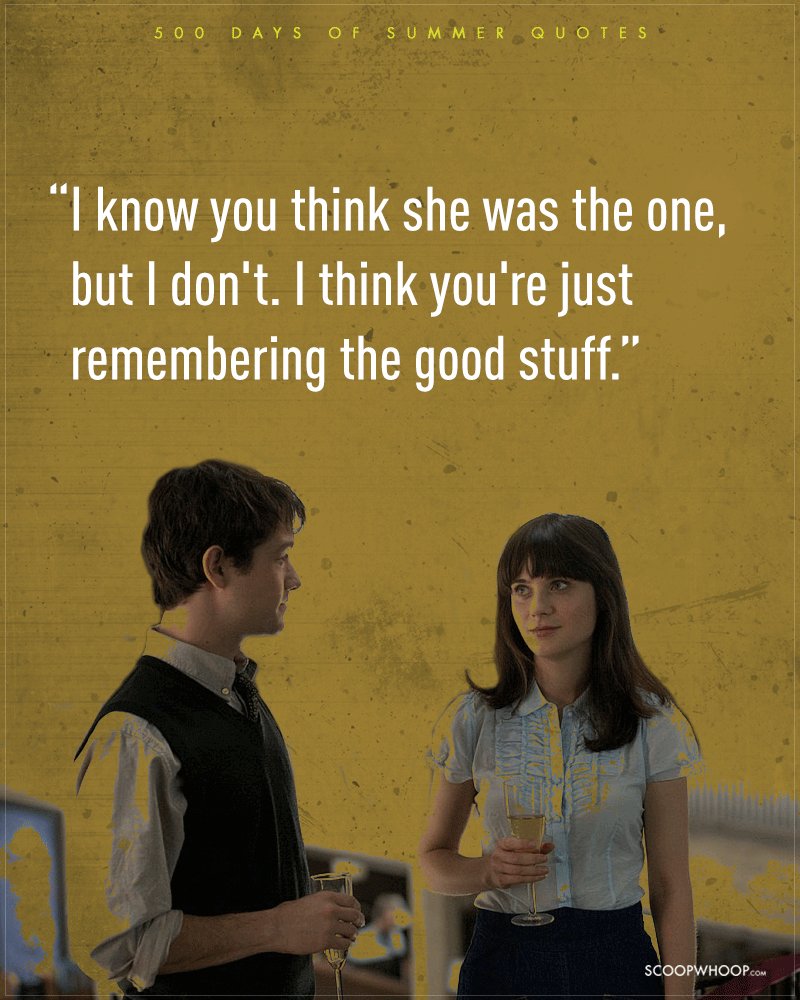 "I know you think she was the one, but I don't. Now I think you're just remembering the good stuff. Next time you look back, I really think you should look again"


The Devil Wears Prada – During challenging times at work. Gotta be like Andy.
and finally, He's Just Not that Into You – to remind me to look at the signs – how to tell if a guy likes me.
7. I went to a Catholic school all through my student life. Including graduate school.
I could probably still recite the words from Angelus if you asked me to.And most prayers like the Holy Rosary.

8. I was both class president and club president of Mother Ignacia club during my senior year in high school.


I've always wanted to be one. I think there's power and prestige that comes with the position. I was not really the elected class president. I don't think I was even class officer! But when our original class president had to step down, she surprisingly nominated me to be her replacement. Well also because our class adviser didn't think our class VP was also worthy of holding the post.
As for the Mother Ignacia club… Well, that was never a part of my plan. I only signed up because I thought my crush did. What was I thinking really? My crush at a religious club? Fat chance! But well I was in the club and they needed a president. Being one of the only two seniors in the club (the other was my friend whom I dragged with me into signing up in the club. Hi Bonsch! LOL!), being elected president was a walk in the park.
9. Not a beach person.
10. I am a lotion addict.
11. I'm miserable when it's cold. Though I still want to go abroad and experience winter!
12. I thought I was ugly growing up.


Bad haircuts. Acne. Oily face. Ugh! I hated the way I look when I was in my early teen years. But Dad would always remind me of the ugly duckling and how he turned out to become a beautiful swan when he grew up.
But I guess I'm not a lost cause after all because my acne cleared up and I discovered how make up can hide beauty flaws. Also I learned to pick a hairstyle that suits my face shape and a salon with good stylists (Thanks Piandre Salon!).
13. My best friend was my 4th grade bully.


So it turns out the term best friend isn't something you coin for the heck of it. While Anerine and I are still friends to this day, it would turn out that it's actually the guy who teased me a lot in fourth grade who would become my very best friend to this day.
He was responsible for the nicknames "Dabiana, balyena e basurera!" that my classmates in fourth grade teased me with. But then we became classmates again in high school and from there on, we became friends.
And overtime, that friendship only grew deeper. Turns out, he's a sweetheart. Oh he still teases me a lot til this day but I know it's in a good natured way.
14. My favorite color is green.
15. Can't sleep with the lights off.
16. I wear my heart on my sleeve.
17. I dream of writing a romance novel and seeing that published book displayed on the shelves of book stores.
18. I have no patience in the kitchen.


I read that Cancer signs are actually great cooks or at least good in the kitchen. I can't really prove it as I have no patience in the kitchen. I easily get bored waiting for food to get cooked. I know this because of the times I tried to cook something which was usually because I wanted to impress a guy with my cooking skills.
19. I have great admiration for people who can dance really well.
I wish I could dance just like them. But I have really bad coordination skills. Fast feet and fast hands moving together? I get lost. Being great at dancing – that's actually what I liked the most about my high school crush. So if you're a guy and you're a great dancer and maybe cute to boot, I might just like you.
20. I taught myself how to ride a bike.
When I was about eight years old, our neighbors who rented the apartment beside our house moved out and left a bike. The training wheels had to come off because they were broken. I practiced for hours on end going around our garage until I got good at it. I have a scar on my leg that reminds me of that one time the bike fell on me while I was learning. Now if only I was brave enough to ride a bike around the roads of Metro Manila, I would be saving me jeepney fare.
21. I am stubborn AF!


You can't talk me into anything I don't want to do. I think this is especially true when it comes to matters of the heart.

22. I am a klutz.


I tend to bump into things a lot. Sometimes I end up with cuts or bruises that I don't have the slightest idea how I got them. I even trip on my own two feet even while I'm just walking. Ryan is almost always a daily witness to that.
23. Not a morning person.
24. My first ever travel locally and internationally were because of work.
25. My love language is quality time.


If you find me spending a lot of time with you without or talking to you without anyone or anything forcing me to do so or asking you to hang out with me, then you know I like you whether as a friend or a special someone.
26. I've been keeping a diary since grade school.


It's how I discovered my passion for writing. When I was just starting out, my diary only consisted of one word per day. Well I'm proud to report that my diary recording has graduated from that and evolved over time to consist of more sentences. Enough to tell a bigger story. And yes, I have all my diaries with me. I still read them from time to time.
27. I have low tolerance for alcohol.
That's probably because I don't drink a lot. So when I do get drunk, I end up puking my guts out.
28. I really like horror movies.
I especially like it with the lights off. Scarier that way, don't you think? I even watched The Conjuring 2 alone. So if you ever feel like watching a scary movie and want company, ask me to go with you.

29. I adore dogs specially the fluffy type.
I gush over them when I see the cute dogs being walked by their owners. I wish to pet them and play with them. But I don't like the responsibilities that come with owning one. My favorite dog breed is Chow Chow.


30. I find forensic science very fascinating.
I grew up watching crime scene investigations on Discovery Channel and my Sundays consisted of CSI marathons: CSI, CSI New York and CSI Miami.
31. Deathly afraid of snakes.
32. I like guys with a good sense of humor.
He doesn't have to be a class clown. But I like guys who can crack a joke or two and people actually laugh. I want someone who doesn't take himself too seriously. He can poke fun at himself. It's the opposite of me because I'm quite the serious type. Don't expect a wacky pose from me because I'll just give you a peace sign pose.
33. I think Got to Believe is the sweetest romance Pinoy film ever made.



"I never even believed in forever Toni but I think I found forever in you." *swoon*
Oh yeah, I might say I'm forever 25 but I am grateful to be 33. I have learned a lot about myself, about love and life in general and I know there are plenty more to learn. Plenty more experiences to have and memories to make and more people to meet too! And to those who I know in real life whether we've only known each other for months, for a year or have been in my life since I was young, I want to say thank you for being part of my journey. You guys are a big part of what makes my life colorful!
P.S. Thank you Ryan for taking these photos.😊